Clear Aligners Special
We are excited to offer a special on ClearCorrect™ clear aligners at Anderson Lane Dental!
Request Offer and Get:
Free evaluation
50% off full treatment
Free teeth whitening after clear aligner treatment
About Clear Aligners
Clear aligners are the clear and simple alternative to braces. No wires. No brackets. Just clear, convenient comfort with every reason to smile.
ClearCorrect™ straightens your teeth using a series of clear, custom-made, removable aligners. Each aligner moves your teeth just a little bit at a time. They're practically invisible, so most people won't even know you're in treatment. They fit you perfectly, so they're more comfortable than regular braces, and they're removable, so you can eat whatever you like and clean your teeth normally.
How This Offer Works
Claim this offer and get a free evaluation to see if you are a candidate for Clear Correct invisible braces. Also get up to 50% off* full treatment with Clear Correct. After treatment, we'll give you free professional teeth whitening to show off your new awesome smile.
Limited Quantity Available
Offer Details
This offer is valid for new patients only. Cannot be combined with other offers. Offer valid for 30 days after redemption date. Whitening includes custom trays and professional whitening gels.
---
Meet the Dentist
Dr. Gerald Pevow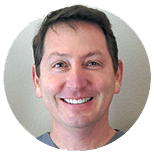 As the owner of Anderson Lane Dental, my personal and company goal is to provide the highest level of dental care in a gentle, compassionate manner. We bring a fresh perspective and a caring touch to each and every patient.
I received my DMD (Doctor of Medical Dentistry) degree, along with an MS degree in oral biology, from the University of Louisville School of Dentistry. I also earned an MBA degree from the A.B. Freeman School of Business at Tulane University and a BS degree in molecular biology from the University of Texas at Austin.
I am dedicated to the newest advancements in cosmetic dentistry and keep up to date with the latest technologies. My first goal at Anderson Lane Dental has been to introduce digital radiography and intraoral scanning to the practice. This will advance diagnosis, shorten wait times, improve outcomes, and enable patients to preview their smile prior to the start of treatment.
When I am not practicing my passion of cosmetic dentistry, I spend most of my time with my lovely wife and children. We are avid bicyclists and love all sports. And, of course, we love watching our local Texas football games where you can often find us on Friday nights and Saturdays in the fall.