Dental Implant Special Offer – Dental Implant for $3,400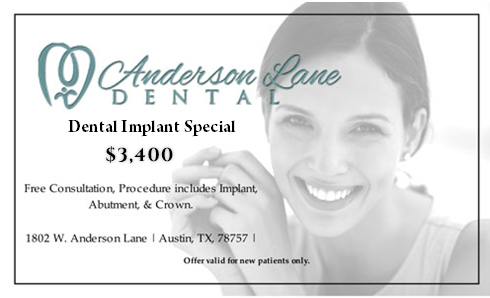 Schedule Your Visit!
At Anderson Lane Dental, we are excited to provide dental implants as one of our favored methods of replacing lost teeth. No matter the reason for your tooth loss, whether it is from decay or trauma, our dedicated team of professionals, led by Dr. Gerald Pevow, has a solution for your smile with dental implants. Dental implants are designed to replace the entirety of your tooth, from root to cusp. With dental implants, your smile will feel brand new, function properly, and look beautiful. We never want you to go without a beautiful, confident smile, and we are eager to share our dental implant special with you and your family!
What is included in this offer?
This great offer on dental implants in Austin, Texas, includes the following for an astonishingly reduced price:
A free consultation to determine whether dental implants will work for your smile
Straumann Dental Implants
During your dental implant consultation, it may be determined that additional services are needed if your mouth is not ideal or healthy enough for dental implants. Some of these additional services include taking 3D images with our cone beam CT technology, performing a bone graft to strengthen the jawbone if it is weak, or using a surgical stent or guide. These additional services are not included in this special offer. You will be able to work with our dental team, however, to factor the additional costs of these services if you would like to move forward
How are dental implants placed?
When you are ready to receive your new smile with dental implants, our team, which includes a specialist for all necessary surgical treatments, will follow these general measures:
First, your dental implants are surgically placed into your jawbone and will act as your new tooth roots.
A period of time is allotted, generally 3 months, for your gums to heal and the dental implants to fuse to your natural bone tissue. This provides extra strength and durability for permanent results.
Once your smile has healed, we will attach an abutment to the implant, which acts as an anchor for your new dental restoration.
Your dental restoration, generally a crown, bridge, or denture, is cemented or screwed into place.
Our dentists and dental team are here to guide you through each step of this process and answer any questions you may have.
What is the All-on-4®?
When you have lost multiple teeth, we invite you to consider a special dental implant treatment known as the All-on-4. The All-on-4 is an implant-supported denture treatment. Only four dental implants in an arch are used to permanently hold a full denture in place. If you are currently wearing dentures or are faced with the inevitability of dentures, we hope you will consider our All-on-4 treatment to restore your smile. It offers multiple advantages when compared to traditional dentures. Not only is the All-on-4 permanent and more comfortable to wear, but it also prevents bone deterioration and the loss of facial shape and volume.
Learn more about your implant placement specialist!
We are proud to work with Christopher Doane, DMD, to surgically place your dental implants in your jaw bone.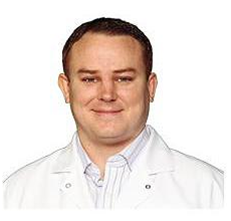 Dr. Chris Doane attended Washington University (Wash U) in Saint Louis, MO, USA, where he received his bachelor's degree in biology in 2006. While at Wash U, Dr. Doane became a published author in Nature Medicine for "Development of a humanized monoclonal antibody with therapeutic potential against West Nile Virus."
Dr. Doane and his mentor, Dr. Michael S. Diamond, subsequently became the co-inventors of a drug (therapeutic antibody) against West Nile Virus. This antibody has passed phase II FDA clinical trials.
Additionally, Dr. Doane was a recipient of a Howard Hughes Medical Institute grant in 2003 during his sophomore year at Wash U. This grant particularly meant a lot to Dr. Doane because his great-grandfather, Dr. Herman G. Weiskotten, MD, had worked with Howard Hughes in the mid 1900s to form the beginnings of the Howard Hughes Medical Institute.
In 2011, Dr. Doane graduated from the University of Louisville School of Dentistry, KY, USA. Following dental school, Dr. Doane practiced general dentistry procedures for private practices in both Kentucky and Texas, but now focuses exclusively on oral surgery procedures. He has taken many continuing education courses taught by internationally recognized doctors to ensure he has full understanding of complicated surgical techniques and planning.
Dr. Doane enjoys family life with his beautiful wife and daughter. They love to garden, hike, and travel frequently. They are also avid music fans.